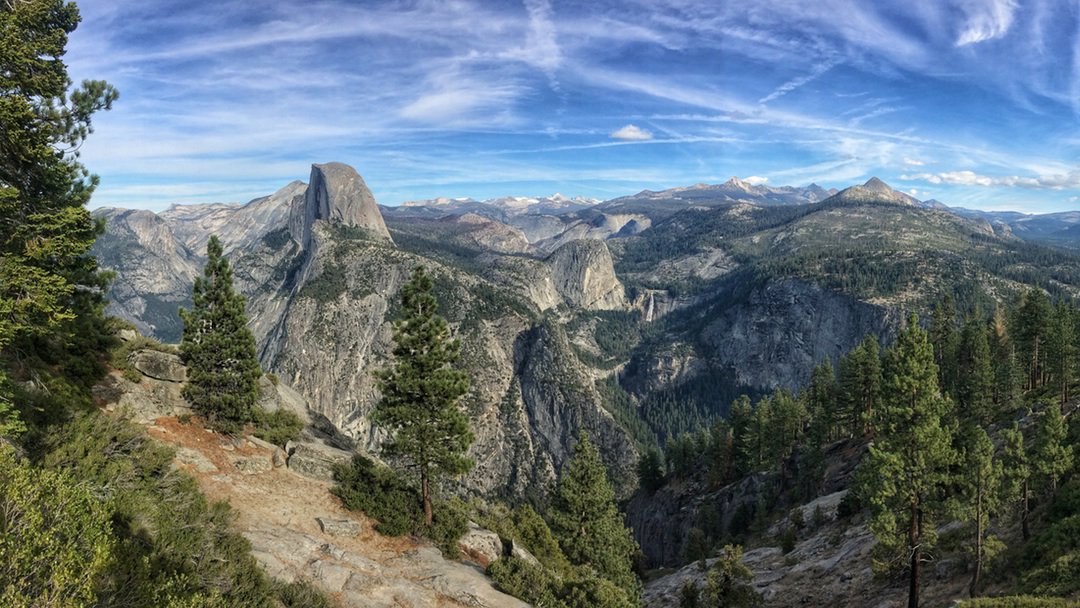 "Behold, thou art fair, my Beloved."
Song of Song of Solomon 1:16
From every point our Well-beloved is most fair.
Our various experiences are meant by our heavenly Father to furnish fresh standpoints from which we may view the loveliness of Jesus; how amiable are our trials when they carry us aloft where we may gain clearer views of Jesus than ordinary life could afford us! We have seen him from the top of Amana, from the top of Shenir and Hermon, and he has shone upon us as the sun in his strength; but we have seen him also "from the lions' dens, from the mountains of the leopards," and he has lost none of his loveliness.
From the languishing of a sick bed, from the borders of the grave, have we turned our eyes to our soul's spouse, and he has never been otherwise than "all fair." Many of his saints have looked upon him from the gloom of dungeons, and from the red flames of the stake, yet have they never uttered an ill word of him, but have died extolling his surpassing charms.
Oh, noble and pleasant employment to be for ever gazing at our sweet Lord Jesus! Is it not unspeakably delightful to view the Saviour in all his offices, and to perceive him matchless in each?-to shift the kaleidoscope, as it were, and to find fresh combinations of peerless graces? In the manger and in eternity, on the cross and on his throne, in the garden and in his kingdom, among thieves or in the midst of cherubim, he is everywhere "altogether lovely."
Examine carefully every little act of his life, and every trait of his character, and he is as lovely in the minute as in the majestic.
Judge him as you will, you cannot censure; weigh him as you please, and he will not be found wanting.
Eternity shall not discover the shadow of a spot in our Beloved,
but rather, as ages revolve, his hidden glories shall shine forth with yet more inconceivable splendour, and his unutterable loveliness shall more and more ravish all celestial minds.
♥♥♥♥♥♥♥♥♥♥♥♥♥♥♥♥♥♥♥♥♥♥♥♥♥♥♥♥♥♥♥♥♥♥
REACHING THE NATIONS FOR THE GLORY OF GOD !
Don't forget to spread The Word of GOD
by sharing today's passage
Please share with your family and friends using small envelope
(E-mail) next to a pencil, under my name at the bottom of post,
or using the share link below
THE LION OF THE TRIBE OF JUDAH..
"HAVE A BLESSED DAY FULL OF PEACE,
LOVE AND HAPPINESS"
"Let your thoughts be psalms,
THE PURPOSE OF THESE PAGES
is to share the precious word of God,
without acquiring any
MONETARY REWARD.
God gave me the salvation for
"FREE",
so I share the gospel of his word the same way ..
( NO ADVERTISEMENTS OR COMMERCIALS ADS FOR YOU, TO ENJOY YOUR READING ) ...
Blessings to all of You,
rejoice in the sublime and infallible word of God.
PLEASE SHARE YOUR BLESSINGS WITH FAMILY AND FRIENDS.
♥♥♥♥♥♥♥♥♥♥♥♥♥♥♥♥♥♥♥♥♥♥♥♥♥♥♥♥♥♥♥♥♥♥
♥♥♥♥♥♥♥♥♥♥♥♥♥♥♥♥♥♥♥♥♥♥♥♥♥♥♥♥♥♥♥♥♥♥
"The true minister of Christ knows that the true value of a sermon must lie,
not in its fashion and manner, but in the truth which it contains."....
Reflection and inspiration from the "Prince of Preachers,"
Father, I ask You to bless my friends, relatives and those that I care deeply for,
who are reading this right now.
Show them a new revelation of Your love and power.
Holy Spirit, I ask You to minister to their spirit at this very moment.
Where there is pain, give them Your peace and mercy..
Where there is self-doubt, release a renewed confidence through Your grace.
Where there is need, I ask you to fulfill their needs.
Bless their homes, families, finances, their goings and their comings. Amen.
"HAVE A BLESSED DAY FULL OF PEACE, LOVE AND HAPPINESS"
I hope you enjoy each one of the post and you can find more going to the "Blog Archive",
DO YOU ENJOY THIS BLOG ? ..
If you like to visit my other blogs, please click at the link and If not clickable,
please copy and paste the address to your browser, Thanks...
TRANSLATORS AVAILABLE TO ANY LANGUAGE...
TRADUCTORES AL ESPAÑOL Y OTROS LENGUAJES...
COPYRIGHT STATEMENT
This resource was produced before 1923
and therefore is considered in the "Public Domain".
"THE PRINCE OF PREACHERS"
"COPYRIGHT POLICY"
We respect copyright laws and are committed to remove any copyright infringing
material from our website.
If you find any content on our website which infringes your copyrighted work,
please contact us, we'll be happy to verify and remove such content.
Please provide to us the following details:
1) Your name, E-mail Address.
2) Location (URLs) of your copyrighted work on your website.
3) Location (URLs) of your copyrighted work on our website.
Some of the pictures from Flickr under Creative Commons License, the bank of free Creative images for non commercial usage, also from
The photo license is a Creative Commons Zero (CC0) license.
From varios like, Unsplash and others.
Everything we do is for God Almighty's glory our creator and we pray for all the people that are making images available to continue spreading the Gospel.
Thank YOu and God Bless.
This blog was created 27th December 2011..